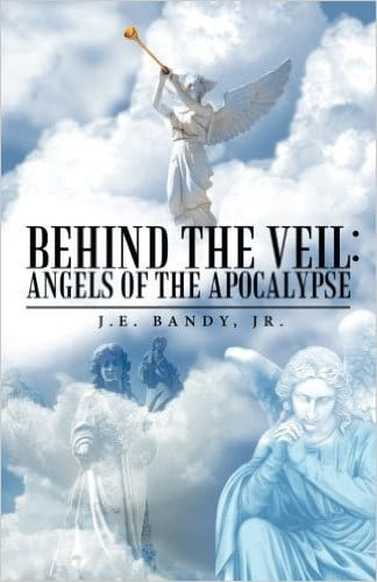 About the Book

Foreign correspondent Jenny Claiborne, undercover FBI agent Ernesto Cruz, and veteran CIA operative Mitch Garvey, Jr. (each representing an
individual in the biblical parable of the sower) have been selected for a
special, divinely appointed test, a test on a scale and magnitude not seen since
the days of Job. In their own way, each will play a pivotal role in hastening or
delaying the rise of the Antichrist; gaining the attention of both the Angels of
Light and the Angels of Darkness. In a desperate race against time, the Angels
of Darkness gain permission from the Godhead for one last test of faith; a
grand spiritual challenge between the forces of good and the forces of evil with the salvation of millions hanging in the balance.

Behind the Veil: Angels of the Apocalypse examines the end of days from the perspective of the angels tasked with carrying out the signs and wonders to be wrought upon the Earth as the Rapture approaches. It is a fictional work
based on biblical concepts, and takes an innovative approach to exploring the
intriguing life and work of God's silent sentinels.



---
"Bless the Lord, ye his angels that excel in strength, that do his commandments, harkening unto voice of His word."

Angelic Hierarchy

In ascending order:

1st Heaven (3rd Sphere) – Earth's Atmosphere

Angels
(Command [RV 1:4, Col 1:16 NAS], Sentinel [DN 4:13/10 NAS], Guardian [MT 18:10 NAS], logistical [1 KGS 19:5, PS 105:40 NAS], messenger [Lk1:26, DN 8:16 NAS], Chronicler [RV 20:12], and human encouragement/recruitment [Heb 1:14, MT 4:11 NAS])

Princes (a.k.a. Rulers)
[1 Col 1:16, DN 10:12-14 NAS]

Chief Princes (a.k.a. archangels)
[DN. 10:13-14, Jude 9, RV 1:4, RV 8:2 NAS]

2nd Heaven (2nd Sphere) – Cosmos

Authorities (a.k.a. Virtues)
[COL 1:16, EPH 1:21 / Miracles - JN 5:4 NAS]

Powers
[EPH 1:21, EPH 6:12 / Warriors - 2 KGS 16-17 NAS]

Dominions
[COL 1:16, EPH 1:21 / Spiritual Escorts and Custodians of Hell
(Reapers) - LK 16:22,
MT 13: 39-43 NAS]

3rd Heaven (1st Sphere) – God's Abode
[Heaven (the Firmament) / Paradise (Abraham's bosom); 2 COR 12:2 / LK 23:43, LK 16:22 NAS]

Thrones (a.k.a. Ophanim - Wheelwork)
[EZ 1:15-20, EZ 10:13, DN
7:9-10, Col 1:16 NAS]

Cherubim (God's "Praetorians" / Guardians)
[GN 3:24, EZ 1:5, EZ 10 NAS]

Seraphim (God's "Burning Ones" / Heavenly Attendants)
[IS 6:2, PS 104:4 NAS]

Biblical Reference: New American Standard Bible (NAS)